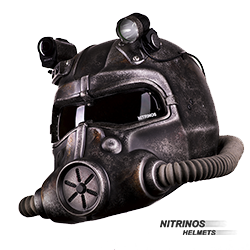 Post-apocalyptic design with helmet features. We continue to break stereotypes in the branch of outfit styling, replenishing the range of Nitrinos unique helmets.
NS-5 helmet is a lightweight and durable composite body reinforced with kevlar fiber. Inside the helmet is an impactabsorbent foam and a detachable lining made of anti-allergic material.
In the front part of the helmet, there is an adjustable ventilation duct that distributes air flow to the chin part, blowing out the visor and forehead area. At the back of the helmet, there are vent holes.