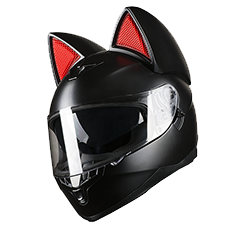 This is an extraordinary motorcycle helmet from Nitrinos motostudio. The first sample of Neko-helmet was produced with a view to Nitrinos participation in a festival of Japanese culture in 2011. After the festival, the helmet became available for orders.
Popular motorcycle helmet Neko has become even more impressive and more functional. Following numerous requests from our customers, we've made the module "Ears" removable. With the help of modern technology, we've designed and manufactured a special device for quick removal, which meets all safety requirements. The updated version of the helmet has a number of advantages and is produced only by the Nitrinos moto studio. If you are going on a long trip or want to ride very fast, you can easily remove the Ears module, and the Neko helmet will take on its usual shape.
For convenient storage and transportation, we have developed a designer bag.
Lamp power module is fitted in the "Ears". Changing batteries is easy. And in the bag for "Ears" you will find a special place for storing batteries.
We've upgraded the mesh elements in the module "Ears". The meshes are designed using modern 3D technology and meet all safety requirements. They are available in different colors.
The Neco-helmet is based on the modern and comfortable polycarbonate shell. Each helmet is equipped with a scratch-resistant transparent visor and a built-in tinted visor. It has double ventilation (around the forehead and chin) and a removable and washable inner liner, which is easy to care for. Lining material 100% polyester. The helmet is available in all popular sizes: XS, S, M, L, XL, 2XL.
Each Neko-helmet is made to order within 3-5 weeks. Delivery is managed to any country. Delivery time takes 2-4 weeks depending on the district (region). You shall choose your size, desired color – to make your order; specify the contact data. Once you send the information, we will contact you within one business day. We make Neko helmets in different colors.
---
Unfortunately, removable Fury Ears can't be ordered separately from the helmet.
---
---
Delivery time takes 2-4 weeks depending on the district (region).
In some instances, the delivery takes more time.
Each Neko-helmet is made to order within 3-5 weeks.
After producing and shipping, you get a track number.
---