The Predator helmet – it is an "outrage against" the outdated approaches of helmet designs. Creating our helmet in 2010, we thought that this helmet dedicated for those who are ready to stand out in a crowd. Incredibly bold and eye-catching design; modern composite manufacturing technology, there is what is the key to a safe and stylish helmet. Keeping the exceptional design, we constantly improve the features of the Predator helmet and add the new, unique options that make truly exclusive helmet.
How to tell the difference between the original product and a fake?
---
Basic configuration
One color Predator helmet with the strong dreadlocks of 34 cm length, and that is enough to get a matchless experience of owning this unique helmet. Each helmet body is created with several layers of fiberglass and Kevlar for maximum strength. Including 22 dreadlocks, the weight of basic helmet configuration is 1800 (± 50) grams. Four-channel adjustable ventilation system is implemented into the Predator helmet for comfortable head cooling. The quick-release system for a visor allows you to change it depending from time of day. The basic configuration included a transparent visor.
Basic cost – $ 920


---
Additional options of the Predator helmet
The "Predator" is unique for its additional options.
Each option has its own cost which is added to the base cost ( 920 usd ) of the helmet.
---
Dreadlocks
The distinctive feature of the Predator helmet – dreads.
Choose the dreads at your pleasure, black or white, and also the length:
– 34 cm
– 45 cm
– combined
CLICK TO CHECK VARIANTS
---
Three-point LED module
Three bright, red LEDs are spectacular decor of the Predator helmet. Module on/off switching, carried out by a microsized button at the bottom of the helmet. To operate the LEDs, two AAA batteries are required.
Besides the red LEDs, we can install: green, blue, white, orange LEDs
Specify it when you make an application.
CLICK TO CHECK VIDEO
Option cost – $ 30 (usd)
---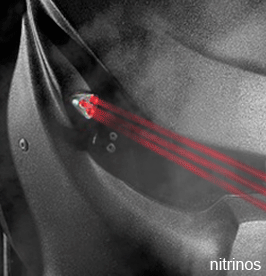 Three-point laser module
Three red laser modules in an aluminum casing.
Laser beams are visible in the fog or smoke. We use laser power up to 5mW. Lasers with such power don't hurt the retina. LASERs are switched by means of a microsized button at the bottom of the helmet. Two AAA batteries shall be used in order to switch the lasers.
CLICK TO CHECK VIDEO
Option cost – $ 100 (usd)
---

One color painting
You can choose from the standard colors – metallic black or metallic white, or you can choose any other color. You can also choose the type of varnish – glossy or matte.
Use the color chart to select a color
---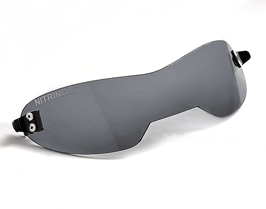 Additional tinted shield
The transparent shield is included to the base-line configuration. Additionally you can order the tinted shield
for a comfortable ride in the bright sunlight.
Option cost – $ 90 (usd)
---
Additional mirror shield
Mirror visor has the effect of toning that is very convenient in bright sunlight. Besides, visor mirror coating adds some mystery to the Predator, because no one can see your eyes.
Option cost – $ 100 (usd)
---
Carbon edges for dreads
Handcrafted from carbon fiber, the tips are an element that accentuates the overall design of the Predator helmet. The tips are handmade. After manufacturing and final processing, each of 22 pcs. covered with two layers of varnish.
Option cost – $ 110 (usd)
---
Kevlar tips for dreadlocks
Made from biaxial carbon-Kevlar fabric, these tips come in four types:
– Red;
– Orange;
– Blue;
– Green.
Decide what color will perfectly match your Predator helmet.
Option cost – $ 110 (usd)
---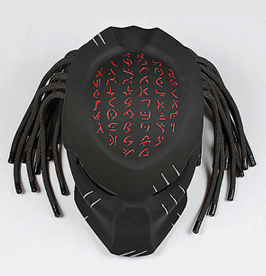 Engraving (scars, hieroglyphs)
To give an individual style to your helmet, we can make engraving. These are not only the drawings of scars
and hieroglyphs but tangible engraved figures.
CLICK TO CHECK VARIANTS
Option cost – $ 35 (usd)
---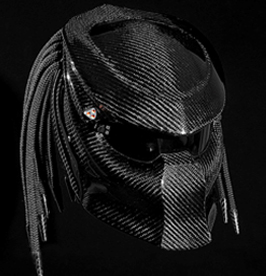 Carbon variant of the "Predator" Helmet
This option has an effect on helmet appearance, it means the helmet has coated with carbon fiber
and layer of polish.
CLICK TO CHECK VIDEO
Option cost – $ 620 (usd)
---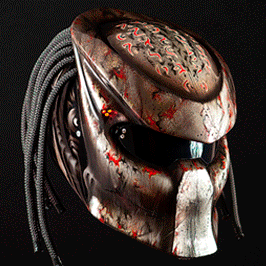 Aerography
This is the most effective option. A helmet is painted by the professional artist. Each work is an individual picture. You can see the gallery of the ― Predator painting sketches and choose the one you like. Also, our artist could prepare an individual sketch at your request.
CLICK TO CHECK VARIANTS
Option cost – $ 580 (usd)
---
King Predator
This helmet modification includes the following options: Crown, voluminous fangs and specially designed airbrushing design. Other options are selected separately if desired.
CLICK TO CHECK VIDEO
CLICK TO CHECK VARIANTS
Option cost – $ 720 (usd)
---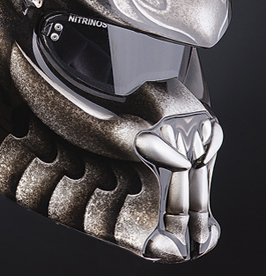 Volumetric fangs (canines)
Well-shaped fangs of the helmet define a different style of the Predator.
In combination with aerography, this option adds "aggression" to the helmet.
You can choose canines from two options.
CLICK TO CHECK VARIANTS
---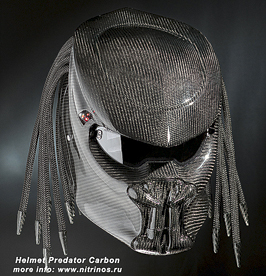 Carbon version with fangs
You'll get a complete carbon Predator helmet with fangs if you add this option to your
order.
CLICK TO CHECK VIDEO
Option cost – $ 620 (usd)
---
Backpack
Special backpack for the Predator helmet. The upper material is durable, wear-resistant and water-resistant. The interior is made of soft materials to help avoid scratches during transportation. There are pockets for documents, money, keys and other small things; special compartment for storing interchangeable visors. Convenient carry handle.
CLICK TO SEE MORE PHOTOS
Option cost – $ 200 (usd)
---